In theme with Coulda, Woulda, Shoulda, we continue to explore romantic regrets with author Michelle Lara Morgan who is touring her book, Tripping Through with CLP Blog Tours. Welcome!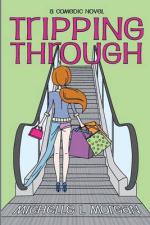 What's a date I wish I could do over again?
I used to go to the gym five times a week and was asked out on a double date by one of the members. I phoned a girlfriend and away we went. The four of us ended up at a bar where a bouncer we also knew from the gym worked. A few margaritas later we were soon enjoying each other's company and all the hype that comes from Friday night possibilities.
Until a scary police officer asked us for I.D. and my girlfriend and I weren't able to produce any. Our dates got a bit lippy with the cop for harassing us until my girlfriend and I hauled them to the side and whispered that we were both 15. The bouncer overheard and also panicked. He told us he could shut the alarm off long enough for us all to run out the back door into the alley. Once the police realized we'd gone, he told us, they'd block off both sides of the alley. The only way out was over the wall.
My date scaled it no problem. He actually looked quite magnificent. By contrast, I looked like an elephant on roller skates. It took my girlfriend and her date pushing me up by various protruding body parts, and my date heaving with all his might, to get me over that wall. (Did I say I was at the gym in any kind of fitness-related capacity? Oh good lord, no. I was the receptionist.)
Let me further interject here by saying that in the 80s, full-length skirts held together by Velcro were perfectly acceptable date-wear. They were as trendy asshoulder pads and leg warmers.
So while I eventually made it over the wall, my skirt did not. We also didn't have time to retrieve it as someone yelled "cops" and we all took off. I sprinted down one of the busiest street in downtown Vancouver in my heels and lovely control top pantyhose over granny panties.
As we arrived at my date's car I remember thinking "that was pretty fast."
As my girlfriend and I were driven to her neighborhood in record time and deposited half a block down from her house, I remember thinking "now THAT was pretty fast."
Michelle Lara Morgan
To learn more about Michelle, visit the CLP Blog Tour Page for more stops on the tour, including reviews of her book, and a chance to buy Tripping Through.