Time for another Dating Do Over installment, where authors share a moment in their romantic pasts they'd do again if given the chance. This week, it's Michelle Lam, on CLP Blog Tour to promote her new novel of The Accidental Prophetess. 
I was a rather naïve young adult. Actually I was a lot naïve. I wasn't very good at reading the signs, picking up the vibes, and so on. I believe I was a bit socially awkward, actually. There was a period of time when I felt like all my peers were just so much more advanced than I was, and sadly I'm not talking about middle school, but much, much later.
In college, there were two different guys that liked me at the same time. This isn't a humble brag type of story, don't worry! It is actually still painfully embarrassing. I had no idea that either of them were interested. Not because they were subtle, but because I was, as I've mentioned, naïve. They were both good friends and we had a lot of classes together. After a while, I noticed that they seemed to be suffering in their friendship with each other. (I know – how astute was I that I could pick up on something like that, but not on the fact that they liked me!!!).
I thought I'd take charge of this situation with some clear head-on communication. After all, when relationships fail, you need to talk about it, right? Isn't friendship worth fighting for?
I planned an intervention. I called both of them separately and invited them to a private dorm lounge. And I forgot to mention that I was calling the other one, too. (Oh, the horror they must have felt when opening the door and seeing their nemesis sitting in on what they probably assumed was the beginnings of a budding new romance).
I sat in between them. I think I may have even held their hands. And I talked non-stop for at least half an hour about the importance of friendship and harmony and who knows what else.
After that experience, neither of them stayed interested for long!
Michelle Lam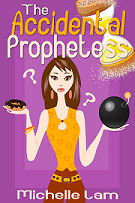 Thanks to Michelle for sharing! Click at these here links if you'd like to learn more about Michelle Lam or read her book, The Accidental Prophetess. (Outlook Good!)